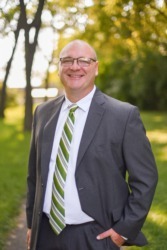 Mike is a Muncie native with deep ties to our local community and a strong desire to see the residents of Muncie and Delaware County thrive.  As a 15-year firefighter/EMT with the Muncie Fire Department Mike has been there to come alongside and help members of our community on some of the most difficult days of their lives.  And now, Mike hopes to expand his capacity to be there for community members by coming alongside them during the exciting, and sometimes stressful, process of buying or selling a home.
Ever the un-salesman, Mike's desire isn't to sell you on anything. Instead, his goal is to help you define your home buying or selling goals and work with you to develop the best and most realistic roadmap to achieving those goals.  So, if you're looking for the stereotypical, fast-talking sales guy, Mike probably isn't the guy for you.  But, if you're looking for a calm, steadfast, GPS to guide you to where you want to be, he's your guy!
Though Mike wears many hats his favorite roles are that of a husband and father.  When not at work you can find Mike soaking up as much time as he can with his wife and 2 sons. His family loves traveling together, but also enjoys fun days at home playing on the obstacle course and zipline in the family's backyard.  Mike is also very involved volunteering at his home church here in Muncie.